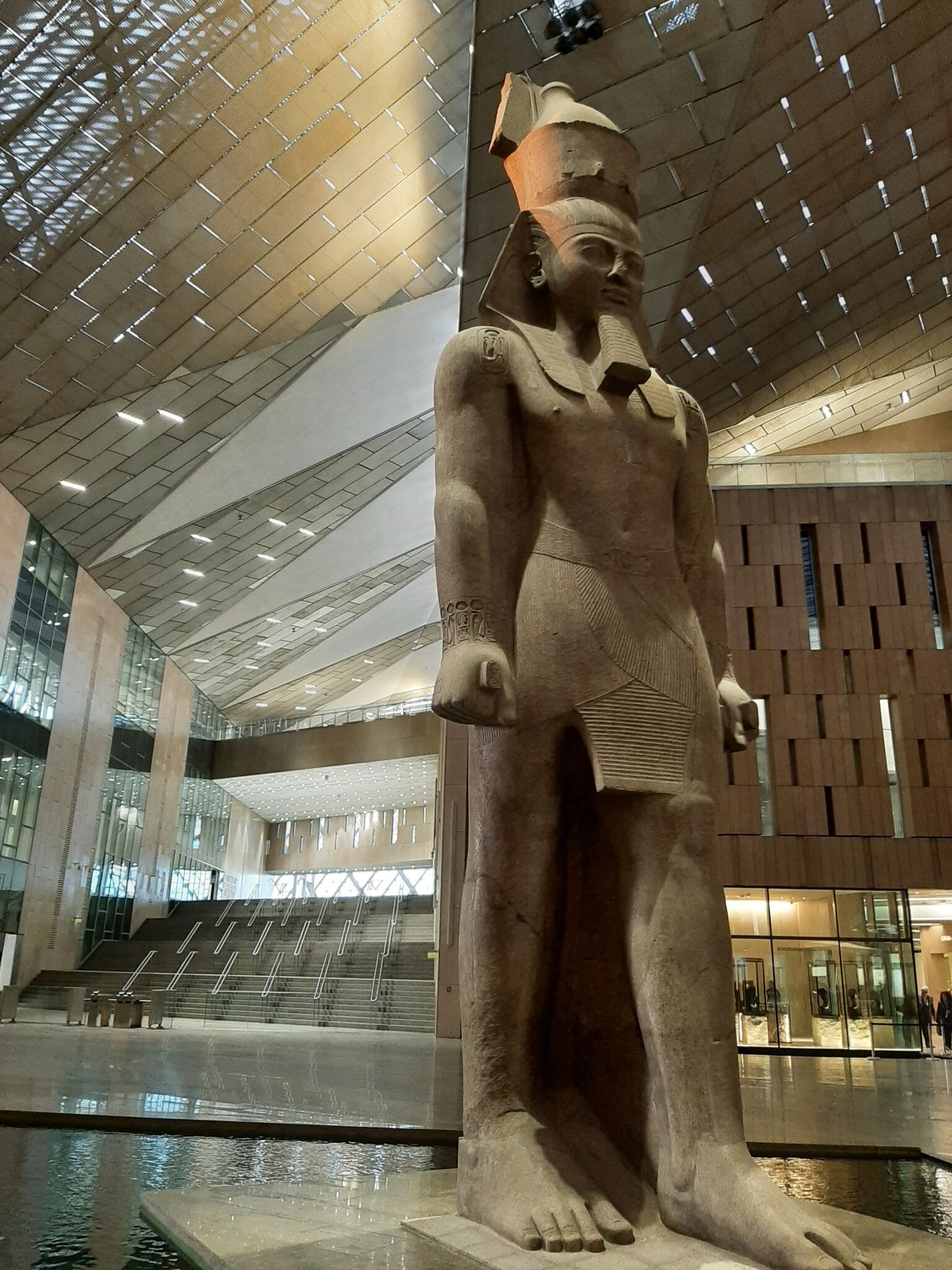 Spring 2024 in Cairo
A week in Cairo - March/April 2024
In a dictionary, the words Cairo and cacophony are on the same page. In Cairo you'll find huge crowds as well as, shall we say, vigorous traffic. Life in the city is at all times buoyant, exuberant and dynamic. A resting heart rate is difficult to achieve.
At the same time, it is the Islamic culture's unofficial capital. The city has also inherited the only man made construction who can hold back time. Bygone days in the Western desert and life everywhere.
Cairo can be your home from 31st March for a week. We are staying at the 4* Hotel Flamenco Cairo in Zamalek. Below is our program we trust you'll find exciting – and tempting. 
You are more than welcome to call us on +45 5273 6316 if you have questions. Weekdays from 10 am to 6 pm. Saturdays from 10.00 am to 3 pm.
Parnassos.dk is a Danish company and member of Rejsegarantifonden ↗, the Danish equivalent of ABTA (You can verify our membership by following this link↗). Just type our company name in the relevant field.
Rejsegarantifonden guarantees your money – independently from where you book your trip – whilst we guarantee your adventures.
The Egyptologist from 'the Ministry of Antiquity'
It's a great pleasure and with some pride we can announce that our Egyptologist during the trip in March/April 2024 is Arto Belekdanian, who will take us under his wings for two of our days. Arto is an Egyptian with Armenian descent, Dr. Phil in 'Oriental Studies in Egyptology' and graduated from Oxford University. 
He has been editor for National Geographic and is currently expert advisor on the BBC program 'Unearthed'. He has 11 peer reviewed scientific publications under his belt.  
On top of that, he is a most pleasant person to be around. If you for example get into trouble with the hieroglyphs while visiting a temple, he's there to help you on to the next phrase.  
The picture above shows him in front of a scene carved in relief on a wall at the Great Temple of Isis in Philae. It depicts a barque shrine of a deity. Barque shrines, as the name suggests, were shrines containing the statue of a deity that were shaped like barques/boats. It was typically in shrines like these that the statues of deities were taken out of their sacred sanctuaries on special festival occasions, carried on the shoulders of priests. 
Besides, and not least, he works for the 'Ministry of Antiquity', who give permissions to visit Mausoleums, temples and the like closed to the public.
It will not be in the spirit of Parnassos.dk not to take full advantage of such a connection.
As mentioned, we will head towards the Western desert to visit a number of Pyramids, each and one of them overwhelming and majestic. They are close to unfathomable, especially when we talk about the three large pyramids in Giza.
However, the Egyptologists have a certain ambivalence towards them as they have ended up being almost clichés. No matter, naturally we will visit them. Naturally. 
We will let Arto decide the exact program for the two days. He has access to a number of excavation sites near the Djoser pyramid, so our bus will stop here first. We'll afterwards arrange a light lunch at the nearby and elegant Saqqara Palm Club.
Onwards to the pyramids of Dahshur. Called the Red, White and Black Pyramid respectively. 
They are perhaps a touch less magistral than their siblings at Giza, but here you have far fewer tourists and far fewer hustlers of any persuasion. Our Egyptian official guide has promised to keep them at arm's length. An important little detail, as they can be rather tiresome. 
Parnassos.dk was in Cairo most of February 2023  We managed to obtain permission to visit the not yet opened 'Grand Egyptian Museum', or 'GEM', situated close to the three pyramids of Giza. A museum that has been 10 years underway, and has blown all budgets. But all signs suggest that we have entered the stage of finishing touches.
I was not allowed to take photos of everything I saw, and I was not allowed to visit all parts of the museum either, but what I experienced is enough to comfortably predict that it's going to be the cultural event of the decade. Hyperbole is in order.
But no one knows the exact date of the inauguration, not even Arto. The decision is at ministerial level and perhaps even presidential level. 
Nevertheless, we have ensured that we will have access to at least parts of the museum in March/April 2024. Click here for more photos of the museum's interior.
The Pyramid Plateau at Giza
The photo shows the Giza plateau with the three inscrutable and enigmatic pyramids. Just look at them!
Cheops pyramid furthest away, Menkaure's the closest where you also can see the small pyramids for his three wives. Granted, we are not quite there yet concerning equality between the genders. But I still think we have come far in the past 4,500 years.  
I will never tire of this vue. No one will. Back in the 1980's I was, with a school mate and girlfriend, visiting the pyramids. A guard told us that it is strictly forbidden to climb Cheops Pyramid. But if we must, it is best to climb it from that and that corner. An information he deemed worth some 'bakshish'. Fair enough. 
Today it is strictly forbidden, with or without tips. But looking at them close up and in awe will certainly be on our program. 
A Signature Dinner at Mena House
What better way to end our Egyptologist days than with a dinner at the Mena House, just across the pyramid of Cheops?
A hotel, established in 1886, whose mythology is attached to the 20th century.
All kings and queens, heads of states and celebrities would stay during their visit to Cairo, and still do. Winston Churchill, Agatha Christie og Charlie Chaplin to name a few. 
It was here, December 1977, that Egypt and Israel sat down for negotiations that ended with the Camp David Accords September the following year.
We have booked a table Wednesday 3rd April at 7 pm with a view over the world's first wonder. A view and a half as it is. 
The King's Birthday at the British Embassy
17th June 2023 and for the first time since 1952 the British King's 'Birthday Parade' was held after half a century of 'the Queen's Parade'.  A very British tradition.  
If it is of interest you can click on this link to see photos from the reception (under 'Flight 760 til Cairo').
Undersigned was invited to the Parade at the British Embassy in Cairo, where we must have been around 300 attendees. Besides military high brass, high finance and big business plus diplomats from every flag there were a number of cultural personalities. I set myself the task of  networking with that particular group. I met three, among them… 
Within the First Security Parameter
…Among them a person collecting original made furniture of the Danish designer Arne Jacobsen. He lives within the first security perimeter of the British and American ambassades. If you knew which procedures he has to go through!   
His apartment is outstanding and he has given us access where we will to arrange a dinner here. (I think he has a soft spot for Danes). 
He is happy to tell us what I find genuinely interesting stories about this particular and heavily protected environment or fortifications. It is logistically perfect for us as it is rather close to 'Old Cairo' which we will visit in the afternoon. 
Not a journey to Cairo without a trip on the river Nile. For us, two trips. One during the day, one at night time. Each city has its own metamorphosis while going from daytime to darkness. 
Egyptians are party loving people and when it's party time it is often on the Nile. Consequently we will set afloat one of the really charming 'disco boats' offering quite a light show. We have rented one of them and yes, it's a little bit naff, but it is also fun. 
Since we have the entire boat at our disposal we also have control over the sound system. Just as well. We will sail around for an hour, enjoying our drinks, but it also has a purpose, because it will disembark on the other side of the river, where we will stay for the rest of the night. We are really looking forward to this part of the tour. And for this we have decided to keep it a secret.
The financially strong golf states have made their imprint in Cairo, and in Egypt overall. To fully understand the country we need to explore this aspect as well.

A year ago I visited a building which was clearly Saudi Arabian territory, where I was a bit out of place and perhaps felt a certain distance from the personnel. On the other hand, the place had a 1001 night's feel to it, which I was genuinely attracted to.
My next visit put my first feelings to shame. They were very friendly and forthcoming. I spoke with the manager of the place, who greeted me with the words 'my name is Sherif, and here I am the sheriff' and then he laughed. I think there is a good chance that he has used that phrase before. 
He was sympathetic to my suggestion. Summa summarum is that one of our nights is going to be really special in a real special way. That's what Sherif has vouched for. 
My brother, Bent, who lived in Cairo for 30 years
Winter 1991. My brother's depression is getting worse. Consequently, his doctor in Denmark suggests he should move to a warmer climate with sun-filled days to take the sting out of the dark Scandinavian winters. He heeded the advice and moved to … Cairo!
He lived here for close to 30 years, where he got himself a new life, friends and acquaintances and found Aladdin's cave. Almost. I have no doubt that he played the cards he was handed as well as could reasonably be expected.
The last time we met in Cairo was February 2020, shortly before the Corona crises that wreaked havoc with the world – and our plans; that of arranging a guided tour to his city.
Late February 2020 he went to Athens, where he also had an apartment, while I stayed in Cairo. A three-week planned holiday ended up being a five month unplanned ditto because of Covid.
We sadly had to say goodbye to my brother early 2022, but the plans we made are alive with this trip, which can be seen both as a memory and a synopsis of a life fully lived despite uphill struggles.
I have kept his apartment in the Cairo district, Agouza, and inherited his friends who have been indispensable while arranging this tour.
I will happily show you this part of Cairo. When visiting my brother, and if one couldn't find his flat among the small and similarly looking streets, you could always ask where "the stranger" lived.
My brother was well liked in the neighborhood, they looked after him during his 'dark' spells and he ended up being the district's mascot. I have inherited their hospitality as well – and now it's me who is the stranger!
The name of the supervisor of my brother's apartment in Agouza; which I have taken over, is Zakaraya, originating from Sudan. I doubt you will find a nicer man. His English language level is… let's say rudimentary. But his son, 28-year old Mohammed, is in full command of the language as he has worked at the customer services of Vodafone for a couple of years. (It was, however, a challenge for him to understand Scottish. He is not alone).
One evening, while we sat in a taxi, he opened up a little about his life and said, "Erik, the traditions in Egypt are toxic!". That triggered my curiosity. I asked what in his opinion was the difference between tradition and culture. He pondered over it for a bit, then replied, 'traditions are acts; culture is achievement'. It was time for a double-take. He has promised to hold a little speech for us about being young in Egypt, their dreams and their indignities.
Not only that, Mohammed has 'the finger on the pulse'. He will the same evening bring us to whatever place is 'in' in Cairo. The Arabian youth is exactly as fickle as the European counterpart, so what is 'in' today is hopelessly 'out' tomorrow.
Don't worry about the fact that some of us will be one or even two generations apart, they will gladly welcome us for the night.  
A bit of Exorcism in Eastern Cairo
In the district of El-Sayeda Zainab you'll find a small theater that plays Nubian music, the purpose of the tunes is to expel any demon that might possess you. I have attended a few of their performances. And it works!
Once again, it is difficult to put words to this performance, but I have rarely seen and listened to such charismatic singers. And here it is the women who are in charge. They will make a show just for us. Half of us will need to sit on the floor, making it so much easier to levitate. We'll bring pillows and plaids.
We will afterwards be treated to a dinner arranged by the troup and the owner of the establishment. And as it is a private party we are allowed to bring wines and beers. (most of the restaurants we visit have alcohol licenses. But not all). 
Jesus and parents - and a bit of Soviet Brutalism
Our bus will, Friday morning, take us a little south of the city, where we will visit, in my opinion, the most interesting Coptic church, 'The Virgin Mary's Church' in Maadi. The priest of the church, Stefanos, will welcome us to his congregation.
It's a little more intimate than their much larger churches in the city center. Not only that, it has had pretty classy visitors back in the day.
This is where you will find Christianity at its infancy – literally.
We read the following in the gospel of Matthew
'An angel of the Lord came to Joseph in a dream and said, "Get up! Take the child and his mother and escape to Egypt, because Herod is starting to look for the child so he can kill him. Stay in Egypt until I tell you to return." So Joseph got up and left for Egypt during the night with the child and his mother'.
According to tradition the family stayed in Maadi for about a month – an area of Cairo where there was a large Jewish community in those days – and exactly where the church was built later on.
Not only that, Stafanos has promised to open the door to the most sacred area of the church, the crypt where it is said the parents and child were hiding from the spies of Herod.
It's doubtful there is any historian who "buys" the story but let us, for about an hour, place our skepticism in the wardrobe and be captivated by this story, where the roots to the legend are at least a thousand years old.
Equally riveting will be Stefanos speech about belonging to a Christian minority in the midst of an Islamic society. 
If the traffic is not too heavy we will make a little detour to building blocks from the days of Nasser, inspired by the Soviet building style. They are as compact as Parnassos' traveling programs.
7000 ton of waste in Garbage City
The Al Abageyah district in Cairo is a strong contender for being the most bizarre place on earth. It really beggars belief.
The area counts 15,000 inhabitants and their livelihood consists of collecting and sorting the garbage from a population of the mega city's 10 -15 million inhabitants. All kinds of refuse end here: Plastic, bottles, cloth, paper, furniture, tires… you name it, they have it.
A constant traffic of vans, easels, men and children bring stuff of all kinds back and forth. 7,000 tons daily. Here is also a certain whiff of decay.
Wandering around here makes you feel like you are walking inside a Federico Fellini film scene. The only issue is; the occupants genuinely don't like visitors of touristic origin. That's fully understandable.
We have, however, found the perfect solution to this, so you can roam the streets, not quite believing what you see at the same time as not stepping on anyone's toes. Besides, through a friend of one of my brother's friends, we are in contact with the administrator of the place, who has promised to walk us through the area. It will be a little unusual guided tour. But fascinating nevertheless.

You will have half an hour on your own, if you fancy, before we meet again – this time on the other side of the large man-made mountains of waste. We will, however,  still be in the dominion of surrealism.
St. Simon the Tanner's Cave Church
Al Abageyah in Cairo is primarily a Christian Coptic district. And, while we are on the subject, I think you will be surprised by how many churches you'll find in this solidly Islamic city. It's in their honor that Egypt gives extensive religious freedom to their Christian minority which probably consists of about 10-15% of the population.
Behind Garbage City a new revelation will be disclosed to us: one of the largest churches in the world with space for 5,000 churchgoers. It has been carved out directly from the Mokattam cliffs that surround Eastern Cairo.
Granted, there are tourists, but not many. On the other hand, the church is well visited, not least by the Coptic youth, even outside the hours of religious services.
In my opinion, the Coptic society doesn't quite get the attention it deserves. I, on the other hand, find it fascinatingly interesting.
If you join us on the trip, I'll happily tell you about the day, a quarter of a century ago, I first visited Garbage City and experienced a little episode; a Coptic Cultural Shock of a non-religious quality if you like; that has followed me ever since.
The Young, Rich and Beautiful in Egypt
It will demand a relatively long stroll, if you want to go from relative poverty to relative wealth in Denmark.
In Cairo you can walk from abject poverty to excessive wealth by crossing a gate – and a couple of guards. 
We aim to show the many often contradictory worlds that Cairo accommodates. This bar is not too far from our hotel. It is a strong contender to where we will have our nightcaps. 
The one Mile Sound System
My brother once said, 'Egyptians cannot deal with silence'. Why not try the most excessive example of that statement?
There is a stretch in Cairo of about a mile where there is so much 'hullabaloo' that it almost rips through reality. (it's near Khan Al-Khalili, the Islamic Cairo, where we will spend one of our days).
You will not be able to withstand it for more than 10 minutes. Luckily we have access to an imperturbable Hausmanian building nearby, with historic significance, where you will be given a tranquilizer and a glass of wine.

We will also offer prizes for those of you who finish the mile. And not to worry, we have found oases throughout Cairo where you can get peace and quiet, at least for a little bit. 
One of our evenings is consecrated a concert at the Opera house in Cairo. The program has not yet been announced but we await it with excitement. It's going to be fun and pretty different if you are used to the posh opera houses of Europe.  
As mentioned, I was stuck in Cairo during the Corona crises. But finally, in July 2020 the opera house as one of the first cultural institutions in the country opened its doors. It was an outdoor event. We were only a few guests listening to Peer Gynt by Edward Grieg. Admittedly, it was not the Vienna philharmonic's who played, but after several months of lockdown and cultural starvation it is some of the most beautiful music I've ever listened to. Only briefly interrupted by a couple of cats who all of a sudden decided to continue the lineage. No propriety. 
This time we will sit inside the opera house. There is one major difference, however, from the European counterparts. It's the dress code. True, in Europe It is frowned upon if you turn up sloppily dressed. But in Egypt you are expected to be well dressed. That includes men wearing ties. One is just not allowed entrance without.  
While we are in the clothing department, it's worth mentioning Egyptian Cotton. Its fame reaches all corners of the world. The only catch is that it is almost exclusively aimed for export. It is usually treated in Egypt before it finds its way to the French fashion houses and the like. And we know what kind of price label that implies. 
But the Expats in Egypt who are in the know, know which shops have received dispensation for this most desirable commodity, translating it into quality shirts, sweaters and jackets with price tags well below what you pay in Europe's designer shops.  
If you join us on our trip you can upgrade your wardrobe for modest amounts at the same as you support the local community. They could need a helping hand.
Pharaoh's Revenge, what Revenge?
Two couples that joined us at our trip to Vienna 2022 gave us a call recently. 
They were mightily tempted by the tour to Cairo but expressed worry about one thing in particular. The potential havoc foreign bacteria could create. 
It's a reasonable concern, no one wants to spend the entire week in a hotel room.
But if you stay away from tap water and ice cubes of any kind and stick to habits we developed during the Corona crises, for example disinfecting your hands regularly, the risk is very low. 
And as the Danish embassy's cultural attaché, Dorte Vestentoft, pointed out 'as to hygiene  the city has really developed over the past decade or so'. She is pretty much omniscient about all things Egypt. She will join us during the week as much as her work allows. 
If you have questions about the above, feel free to call us on +45 5273 6316. Opening hours, as mentioned, are weekdays between 10 am and 6 pm, Saturdays 10 am – 3 pm.
We want to create exclusive experiences – without excluding anyone.
Granted, our tours are not among the cheapest, but they are still accessible to most of those who walk in the footsteps of Hans Christian Andersen, the Danish poet who once said, 'to travel is to live'.
The 'trick' is to be a large group. We're talking about around 40 people. Being many has its own dynamic. And a larger budget allows us to offer truly unique adventures that surely will be beyond most of us if we acted on our own. Sometimes we will split up in 2 groups of 20 when that makes more sense. 
Our purpose is to tear us away from our day to day lives, to ensure that when you are back home again, you will ask yourself, 'did I really experience what I think I experienced'?
What Exactly do you get for 13.500 kr?
Seven nights, breakfast included, at the  4* hotel, Flamenco Cairo, 02 El Gezira El Wosta, Abu Al Feda, Zamalek, Cairo.
You can upgrade to the  5* Hotel Marriott, at Zamalek if you so wish.
All transportation, including transport to and from the airport. All guides, concerts and museum entrances are included.
3* lunch including Afternoon Tea at St. Regis.  
4*aftensmad/buffeter, inklusive the  banquet at Mena House. Drinks at speeches and own events.  
This is not included in the price
Flights. Wines and spirits generally at the restaurants we visit. Visa paid at Cairo airport, (at the moment $ 25).